The modern day wells continuously demand more from our tool packages. Standard pulling tool technology has remained largely unchanged for over 50 years, whilst Slickline wire, toolstring and winch units have made significant technological advances. As modern wire is now 3-4 times stronger, power jars are quickly becoming a must have for Slickline toolstrings; The increased impact pushes standard pulling tools beyond their original design limits, resulting in damaged tools and costly fishing operations.
The LiMAR Uni-Tool® is a mechanical, Slickline-conveyed pulling tool, designed to engage external fishing necks on sub-surface devices within the well-bore. The Uni-Tool® was developed to provide a safe, efficient and durable alternative for the setting and retrieval of downhole devices. The tool is functional downhole in the same way as all current-market pulling tools and requires no specialist skill-set to operate.
Now in operation in many parts of the world since its inception some years ago, the Uni-Tool is truly tried and tested, both internally against the competition and offshore in a critical field environment. The feedback we have received on this tool is always positive and highly rated for ease of use, performance and reliability.
PERFORMANCE TEST
To truly understand the comparative performance of the Uni-Tool® against current market pulling tools, we conducted in-house jar testing on the LiMAR® Flow Loop and & Impact Tester.
The Impact Tester is designed to qualify both our CT & WL products. The Tester incorporates a large hydraulic ram & flow loop which is designed to handle the high push and pull forces seen with CT work. The other end has a lighter weight, automated ram which includes an integral load cell and sensors which allow us to conduct a high number of jarring cycles in quick succession. The impact testing was performed utilising the LiMAR® K>netic Adjustable Spring Jar & Accelerator combination to generate the impact force required to put the tools through their paces. On each new Tool test, the Accelerator Belleville Washers were changed for new to ensure the impact force was reliable and fair. Similarly, the Spring Jar Calibration Sub was used regularly to ensure the jar firing setting was also consistent.
Three jar settings were selected for the experiment – 500lbs, 750lbs & 1,000lbs and the aim was to achieve 250 impacts at each jar setting before moving on to the higher setting. The results were as follows;
THE RESULTS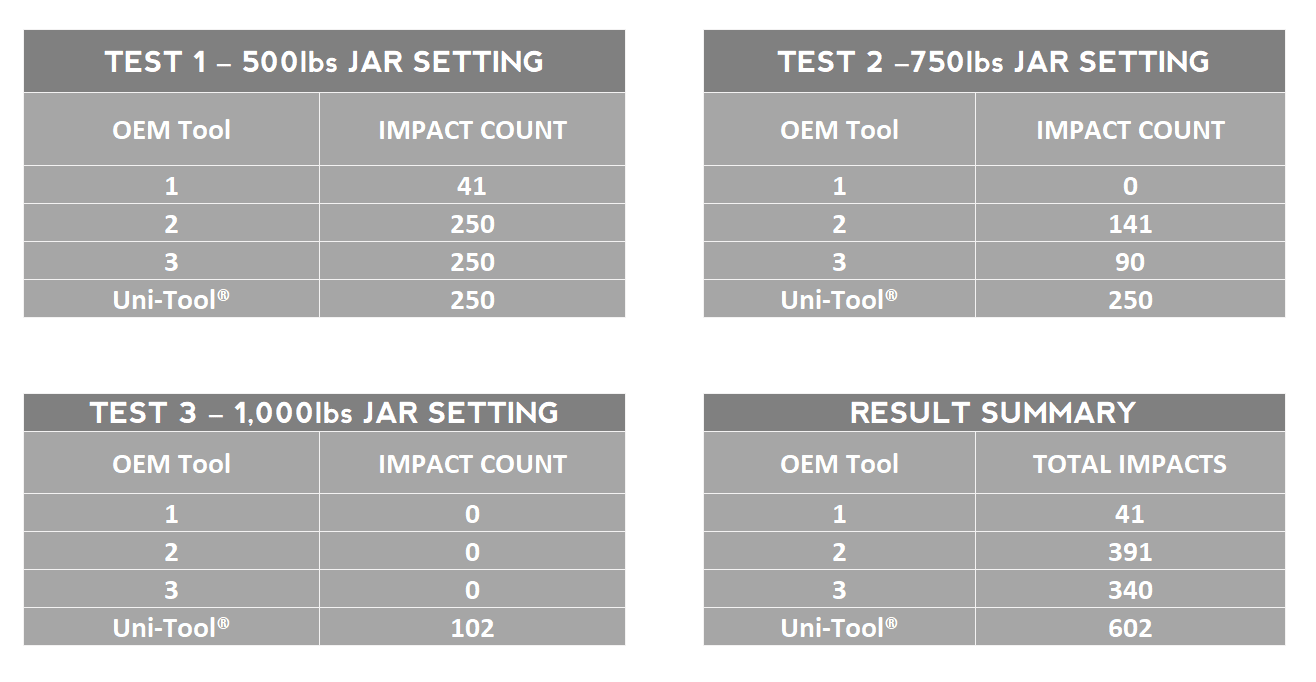 Click here to view the Uni-Tool® animation and to download the product information sheet or contact sales for further information.